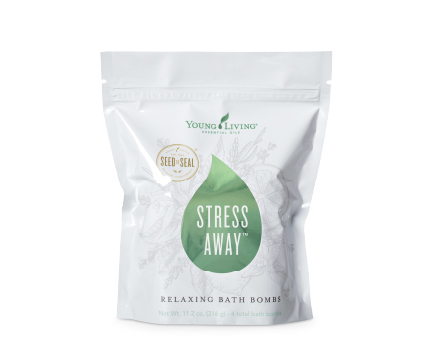 I'm so glad to be connected with a company that not only has a pure and effective product line but one that loves on their members too! How?
Well, from
April 7–14
, any new member who enrolls with a Premium Starter Kit
and enrolls in Essential Rewards with a minimum 50 PV order (about $50) will get a free pack of

Stress Away Relaxing Bath Bombs

. That's sure to make a splash in your day!
I know what you are thinking right now......what is Essential Rewards? Well, if you are
familiar
with programs like Stitch Fix or Ugly Produce, you get a sense of what it is. But this program is even better! Essential Rewards is a monthly wellness box (we all need more wellness, right?) that you receive every month. So, how is this different from others? Not only can you change the contents of the box whenever you want and change the delivery date, you also get a 'rebate'!!**
Months 1 - 3 that you participate you are rewarded 10% of your box point value. The $50 minimum usually has a point value of 50. So, every month your order earns you at least 5PV to spend on YL product!!
Month 4 - 24 that reward jumps to 20%. I don't think other reward programs do that, do they?
Then to make it even sweeter, at months 3, 6, 9, and 12, you are sent a free oil. Now I KNOW other companies don't do rewards like this!!
So, now that you are chomping at the bit to start your collection of wellness, how do you do it? You start by talking with Leah or Ann and tell them you want the Premium Starter Kit. They will help you sign up for the wholesale account. During that process, you sign up for ER (Essential Rewards) with an additional order of about $50 and you're on a great start to creating wellness in your home and body!
Make sure you do this by the 14th to get the Stress Away Bath Bombs. AND to sweeten the deal, Leah and I have a few new member bonus items to send you.
**Essential Rewards has no contract to sign and you can stop the program anytime you wish. But if you are like me, you'll want to continue. I'm at month 36 and I get 25% back in points on all my ER orders!
Be like Ann! ;-)